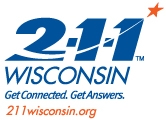 We are pleased to welcome another new customer to the Visionlink network, 2-1-1 Wisconsin.
These professionals have created a comprehensive collection of vetted services that can support not only the people of the state but also the health care professionals, probation officers, social workers, family members, neighbors, and others assisting people in reaching the support and services that they need.
There are seven 2-1-1 contact centers in Wisconsin, divided regionally. The services are available 24 hours, every day, all year long.